Compositions collectives / interprètations / improvisation
Pianos, claviers & percussions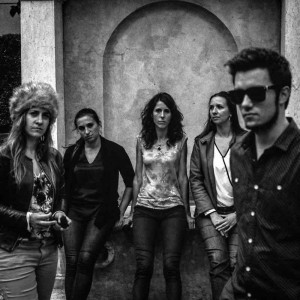 Formé en 2010 à Genève, l'Ensemble Batida est un collectif de cinq musiciens, percussionnistes et pianistes, avides d'exploration : Jeanne Larrouturou, Anne Briset, Viva Sanchez Reinoso, Raphaël Krajka, Alexandra Bellon. De projet en projet, les imaginaires qu'ils font lever mêlent la force acoustique des instruments percussifs au spectre sonore élargi des musiques électroniques.  Ils fréquentent tant la musique contemporaine écrite que l'improvisation, produisent des concerts ou des objets scéniques transdisciplinaires, et ne se donnent que peu de limites dans leurs expérimentations. Leurs concerts-concepts se déplient comme des architectures poétiques, générant des installations singulières, des instruments inventés, des configurations insolites. « Virtuoses de la fusion des timbres », ils savent explorer l'infiniment petit au cœur du son, et pratiquer une orfèvrerie de pointe.
En live, le public est saisi par leur énergie scénique et leur osmose musicale, qualités qu'ils mettent au service de pièces du répertoire ou de projets collaboratifs avec d'autres disciplines. BATIDA, c'est un cocktail explosif, c'est la constance des basses, c'est le bourdonnement harmonique de la matière qui se propage en vibrations.
L'Ensemble Batida a reçu plusieurs prix depuis sa création en 2010, notamment le prix de musique de chambre « Jean-François Chaponnière » et, en 2013, le 2è prix du concours Nicati (Berne, Suisse) dédié à la musique contemporaine. En 2018, il a également obtenu une bourse de la Fondation Leenaards. Le groupe a été enregistré par la DRS 2 lors de la première édition du Festival d'Adelboden, par Espace 2 aux Jardins Musicaux 2014 avec le « Scorpion » de Martin Matalon, ainsi qu'à la SMC (Société de Musique contemporaine-Lausanne) en 2017, et a été invité en avril 2016 à la « Tribunes de Jeunes Musiciens » pour un concert live au studio Ansermet à Genève.
L'ensemble a été programmé dans de prestigieux festivals et salles de concerts de divers horizons : , festival « ReMusik » de Saint-Pétersbourg (RU), Gare du Nord/IGNM (CH), Zeitraüme à Bâle (CH), festival «Les Aubes Musicales » de Genève (CH), festival Les Jardins Musicaux de Cernier (CH), SMC de Lausanne en 2017 (CH), Festival Archipel de Genève, Chamber Music Circle d'Andermatt (CH), La Cave 12 (CH), La Péniche (FR), WhyNote (FR). En contrepoint à la musique contemporaine, les musiciens collaborent avec le chorégraphe Jens van Daele (Belgique) lors de l'Ouverture du Festival de danse contemporaine Jomba 2012 (Afrique du Sud) puis créent le spectacle « Spring Tide» 2013 pour une tournée de 26 dates en Hollande, et recréent enfin « Battre le Fer/Battre le Noir » au théâtre du Galpon (Genève) en mars 2014.
En 2017, l'Ensemble Batida a sorti son premier CD, monographie dédiée à la musique du compositeur franco-argentin Martin Matalon, en 2018 son premier album avec la pièce Mean-E, fruit de leur travail de composition avec le musicien rock Richard van Kruysdijk, en 2019 une série de Vinyles "OBLIKVAJ" en partenariat avec le collectif Hécatombe. En 2021 à l'occasion des 10ans+1 du groupe, sort l'album DOUBLE-FACE#3 sur lequel apparait IN C de Terry Riley et HYDR-X de l'Ensemble Batida.
ENGLISH BIOGRAPHY
Young and dynamic, the Ensemble Batida is made up of five musicians wishing to devote themselves to quality contemporary works. They regularly commission works, which are premiered by the group. Currently, nine works by Swiss, French and Russian composers are being written for the group.

A collective of five musicians — percussionists and pianists — eager to explore: Alex-andra Bellon, Anne Briset, Raphaël Krajka, Jeanne Larrouturou, and Viva Sanchez Reino-so. From project to project, the fantasies they raise combine the acoustic power of percus-sive instruments with the broad sound spectrum of electronic music. They frequently cre-ate concerts and transdisciplinary stage performances, performing written contemporary music and improvisations with no limits in their experiments. Their concert-concepts unfold like poetic architectures, generating singular installations, invented instruments and unu-sual configurations. "Virtuoso of the fusion of timbres", according to music critic Pierre Gervasoni of Le Monde, Batida knows how to explore the infinitely miniscule that lies at the heart of sound, as if practicing advanced goldsmithing.
Their discographic objects are the material representation of their artistic mix:
— Monographie Martin Matalon, 21st century repertoire pieces, self-produced CD, 2016
— OBLIKVAJ, an oblique trajectory between the visual artists of the Hécatombe collective and the musicians of the Ensemble Batida, vinyl, flexi-discs and books, éd. Hécatombe, 2018
— VESADI, an evening of improvisation on graphic scores during the Festival Le Monstre, tape, recorded by Zer Cheun, edited by Hécatombe, 2018.
In their live concerts, the audience is captivated by their scenic energy and musical os-mosis, qualities that they put at the service of repertoire pieces or contemporary collabora-tive projects, often multidisciplinary. Among the distinctions received, in 2018 they obtained the support of the Leenaards Foundation's cultural scholarship. Batida, in the constancy of the basses and in its harmonic humming material, is a vibrating, explosive sound cocktail.
The group was recorded by the DRS 2 during the first edition of the Adelboden Festival, by Espace 2 at the Jardins Musicaux 2014, with Martin Matalon's "Le Scorpion" as well as in 2017 for its concert at the Société de Musique Contemporaine de Lausanne, and was invited by the programme "Tribunes de Jeunes musiciens" for a live concert at the Studio Ansermet in Geneva in April 2016. The Ensemble has been programmed in prestigious festivals: at the Chamber Music Circle in Andermatt (CH), at the "ReMusik" festival in St-Petersburg (RU), at the biennale for new music and architecture "ZeitRäume" in Basel (CH), at Les Aubes Musicales and Les Athénéennes in Geneva (CH), at the "Piano décalé" festival in Lyon (FR), at Why Note in Dijon (FR), at Festival de la Cité in Lausanne (CH) as well as Festival D'Aujourd'hui à Demain in Cluny (FR).
As a counterpoint to contemporary music, the musicians collaborate with choreographer Jens van Daele (Belgium) during the Opening of the 2012 JOMBA Contemporary Dance Festival (South Africa), then create the show "Spring Tide" 2013 for a 26 dates tour in Holland, and recreate "Battre le Fer/Battre le Noir" at the Galpon Theatre (Geneva) in March 2014. They also have work with the artists of the "Luciole Écarlate" for the musical creation of the show "Haïku" based on an ancestral Japanese tale (puppets and shadow theatre).